Nazifah Mat Kassem
Senior Executive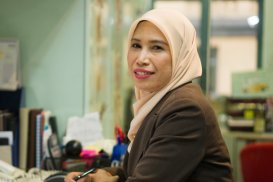 Nazifah joined Perinsuran Brokar in January 2015 as a Senior Executive. She has more than 14 years experience in the insurance broking industry and brings with her a extensive knowledge and skills handling and managing all classes of insurance including global or network accounts.
Nazifah is responsible for the day to day servicing of our clients from the Property Insurance sector as well as being the key point of contact for our Special Schemes.
Before joining Perinsuran Brokar, she was a Senior Executive with Willis (Malaysia) Sdn Bhd where she was responsible for liaising with the Global or network /International clients referred by Willis Associates Companies and drafting and processing renewal documents of those of new programs.
She was also responsible for handling Motor, Non – Motor, GPA and Liability claims as well as a host of miscellaneous claims from multiple sectors.
During her tenure with Willis, she also prepared the quarterly production reports for the unit heads and team leaders, observing and complying with all the local regulations, international company rules and operating procedures.
Nazifah holds a Diploma in Insurance from The Malaysian Insurance Institute.